Throughout the Asian region, outdated laws and blinding oversights still exist that make the work of the wildlife researcher difficult to say the least.

Check out this improbable example from India - or, "How to study a nocturnal animal, without permission to do any research at night."
[
text from Science Nov. 10, 2006 - DOI: 10.1126/science.314.5801.907a
]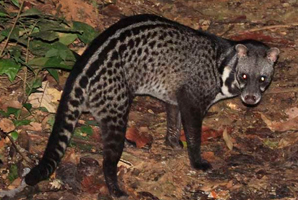 Little is known about the Malabar civet (
Viverra civettina
), an endangered mammal the size of a small dog that lives in the wet forests of southern India. To get a better understanding of this vanishing beast, N. V. K. Ashraf, a veterinarian with the Wildlife Trust of India in New Delhi, sought a research permit last January from the Kerala Forest Department, which manages the civet's last-known habitat.
Permission was granted - but to work only between 6 a.m. and 6 p.m. The Malabar civet, however, is a nocturnal animal. Not surprisingly, Ashraf has found no trace of the civet during his daylight-hours research. Ashraf 's frustrations are far from unique - and now India's wildlife researchers have had enough.
Writing in the 25 October issue of the journal
Current Science
, 14 of the country's leading experts bemoan "a disturbing trend across India where scientists are increasingly denied access to wildlife reserves for scientific research or are seriously impeded, without scope for redress." They blame the antiquated Wildlife Protection Act of 1972, which puts research and hunting permits in the same general category. They also claim that unnamed officials "arbitrarily" deny access to reserves and "demand co-authorship on publications as a precondition" for a research permit.
Download
Science in the wilderness: the predicament of scientific research in India's wildlife reserves
[PDF]
.
Current Science
Vol. 91 No. 8