As some of you may know, I've been busy with a documentary about Sloth Bears on the island of Sri Lanka.
Have been in the process of getting all my footage sorted out, but I'd like to share some of my experiences here - and share with you just what its like to be in the wilderness away from Humanity for a few precious days!!! (I need it from time to time, and fortunately my job allows me to do just that!)
Here is the location where the crew was based... a little piece of heaven on the south-east coast of the island!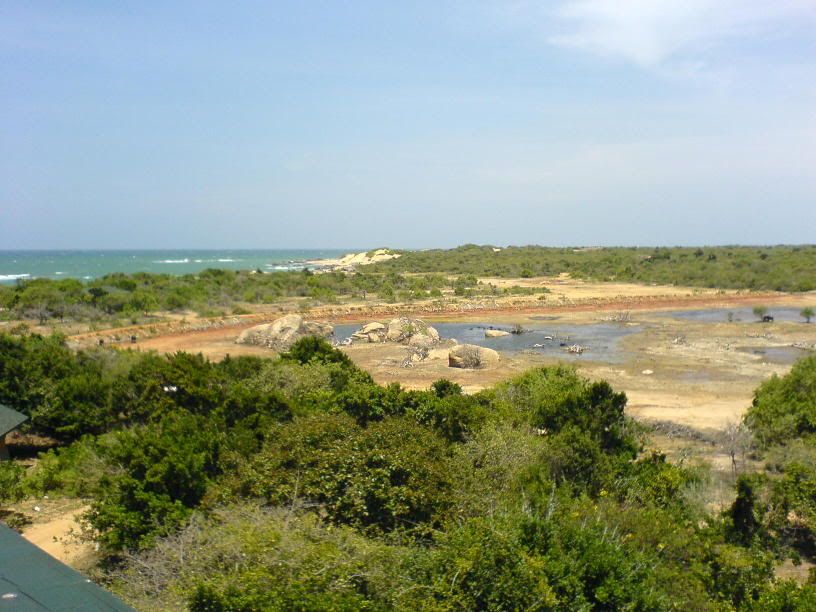 For obvious reasons I can't post too many visuals from the shoot just yet - technically it all belongs to Discovery! - but I will selectively post some of my own digital photos and sketches up here.
Although the subjects of my documentary are highly endangered Sloth Bears, of which there are fewer than 300 left in Sri Lanka, we do have a strong supporting cast!
Sri Lanka is still one of the best places to see Leopards in the wild, and they obliged on our shoots too.
As for the bears, there were signs of them everywhere - claw marks on trees, pugmarks in the dust. Problem is that they are most active at dawn - so the crew had to get special permission to access the deeper parts of the reserve at 4:30 in the morning... no more late nights!
First positive ID of a bear was a sighting of a young male splashing his paws lazily in a rock pool - looked like he was just amusing himself with the ripples - but then the tracker said this particular bear was splashing deliberately to try and scare the frogs out - catching them as they leapt into the air! Never heard of this behaviour before.
Well he didn't seem to have any luck on this occasion, and in any case the light was too poor to film.... one of those wildlife moments which will have to be recorded to memory rather than onto film! You get used to these little disappointments...
Of course the best thing about doing this job is when everything happens like clockwork - for the first time ever - we were getting more leopard sightings than bears (usually when I REALLY want to film leopards - they never turn up...)
But the bears finally showed - I had researched their behaviour for the past couple of years, and had already gambled on the fact that this time of the year would be the best bet to see them.
The bears had arrived, and the leopards were keeping watch too. Finally we seemed to be in the right place at the right time. I had been planning this story for almost ten years, and finally things were starting to happen...